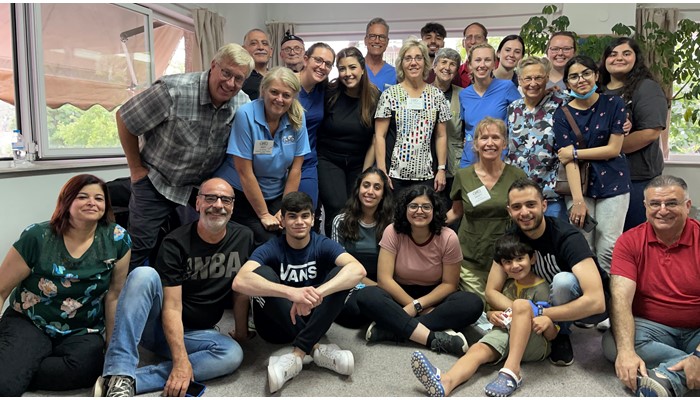 In June 2021 I had the privilege of participating on a GHO trip to Athens, Greece as a medical student. Our team comprised on 5 physicians, a nurse, a dentist, a dental hygienist, and 4 medical students. Together, we were able to set up and run a clinic at a local Athens church at which we served Afghani, Iranian, Iraqi, Syrian, and Egyptian refugees. These patients, having fled their home countries, are not eligible for healthcare in the European Union and therefore do not have access to healthcare apart from the generosity of volunteer healthcare practitioners. Daily life in Athens was a welcomed change of pace from the monotony of didactic medical education and especially the continual sitting prompted by final exams. Each day we traveled by metro to the church where we had set up the clinic.
Patients would begin arriving for the day around 8:30 and were welcomed by the triage team. They were then sent upstairs to see a physician, dentist, or osteopathic medical student for osteopathic manipulative therapy (OMT). As a medical student on the team, I was able to rotate through the medical stations and work with each of the physicians, collecting histories, talking through differential diagnoses, and working with the pharmacist for proper medication treatment. Each patient was treated with patience and compassion and was exposed to the aboundingly compassionate love of Christ. As I rotated between working with a different CMDA physician each day, I got to bear witness to how each of them engages with ministry in their practice of medicine. This was a transformative experience, and as a student who had been beaten down by in didactic medical education, it breathed new life into my learning process. Although there were some ways of ministering to patients that didn't resonate with me, I did grow in my gratitude for the diversity of the Body of Christ. Each person on our team was needed. Their relationship to Jesus and experience of being ministered to by God, was needed to be an effective ministry team.
Everyday we encountered stories of tragedy and stories of redemption as patients willingly shared the grief of leaving their home nations with us. Prior to medical school I obtained my Master of Science in global health. In my global health training, I learned a lot about the power of one's story and how it is the pinnacle of health. This is a tool that I leaned into on this mission trip, and it is what the Lord used to transform my heart. In the months prior to the trip I was diagnosed with a terminal illness. As a young person, still at the beginning of her medical career this incited deep, deep grief. Though I never doubted the Lord's provision or timing, I did feel fear and questioned my educational pursuit. To be in a phase of life as confined as med school, there were not many empathetic grievers to come along side me and show me how to grieve. I was in complete despair and felt alone. In Athens, the Lord gifted me grieving people whom I could come beside. Though their grief was different than mine, I felt the embrace of a community and the embrace of Jesus. It's like He scooped me up and plopped me down in the place I needed to be to heal. Alongside my grieving companions I was able to lean in, experience sadness, anger, acceptance and contentment, which propelled me into experiencing Jesus's peace. I don't believe grief ever goes away, but it does get smaller. I am forever grateful to the refugees of Athens for helping me understand healthy grieving and landing me in a place where Jesus's peace was able to lay foundation.
---