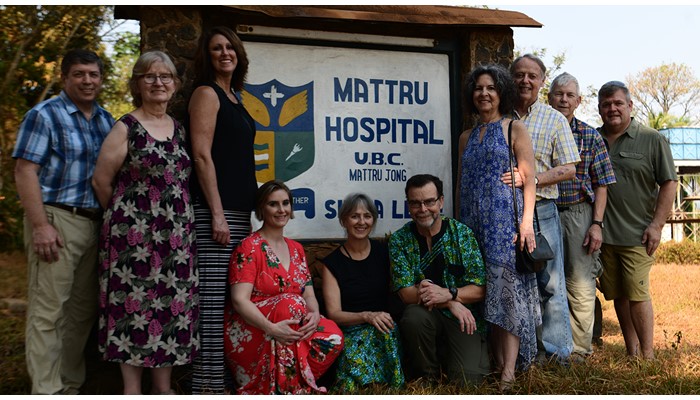 Sierra Leone lies on the west side of Africa on the Atlantic Ocean. The average life expectancy is 45 years old. It is most known to Americans for the tragic war in the 1990s, blood diamonds, and most recently for the now resolved Ebola crisis. Every person has his or her story of how they survived during these tragic times. Many people fled the country and some went into hiding. However, Sierra Leone is now at peace and well.

The hospital is located in Mattru Jong, where Jon Yoder, MD, is the current resident doctor. The hospital belongs to the national church of Sierra Leone which is a United Brethren global mission. This trip gave him and his wife Helene the chance for a well-deserved rest.

The team consisted of many familiar faces including, Ronald Baker, MD, Richard Beckermeyer, DDS, Barbara Carlson, MD, Vicki Haines, dental assistant, Daniel Metzger, MD, Elaine Metzger, RN, Charles Roberts, DDS, Nancy Roberts, dental assistant, Michael Schuhknecht, DO, and Corita Wheeler, DO. Elaine was the general coordinator for the entire mission. She also managed and directed all patients that arrived each day to be seen for dental care. Dr. Beckermeyer is an amateur photographer and took all of the pictures.

Days before we arrived, the radio station had been announcing that doctors and dentists, especially
Dr. Baker, were coming to the hospital at Mattru. Dr. Baker has a lifelong connection with Mattru and Sierra Leone. His father came to Mattru as an educator, making Sierra Leone Dr. Baker's overseas home as a child. His father founded Centennial Secondary School which was the first coed high school in the country. His brother Norman was killed in a tragic boating accident on the river and is buried there.
The medical team arrived to 88 degree temperatures, day and night. The roads are dirt but well-kept, and the soil is red. It is a poor country, so people tend to live their lives on a day-to-day basis. Schools in Sierra Leone are taught in English, and walking is the major form of transportation. Despite their circumstances, many people do have cell phones.

The dental crew worked tirelessly and treated approximately 200 patients in their clinics. On the last day, the radio station encouraged its listeners to visit. This caused a rush of patients, but they were all seen. One patient waited two days to be seen by the dentists. He is deaf and didn't know how to sign in. After he finally inquired, the other patients graciously allowed him in line.

The medical team was busy, and hospital rounds were done every morning. Drs. Baker, Metzger, Carlson, and Wheeler staffed the general medical clinics daily. One of the biggest complaints was lower back pain. Many patients were disappointed that we had no cure for the common backache. The doctors also diagnosed many cases of malaria and typhoid; malaria was the most common diagnosis. Sadly, during this trip, a six-year-old boy passed away because of malaria.
Others Helped

A dental patient was admitted after removing an infected tooth with an accompanying abscess that had extended to his neck. Along with antibiotics, his wound required daily care. After successful daily treatment from Dr. Wheeler, the infection cleared, and he was discharged.

Dr. Schuhknecht had a daily surgical load and was often assisted by Drs. Baker, Wheeler, and Mohammed, the resident surgical CHO at Mattru. One woman was suspected to have a precancerous uterus, so Dr. Schuhknecht removed it. However, not all problems were routine or simple. Another patient had severed several tendons in his left hand. Thanks to technology,
Dr. Schuhknecht was able to consult with hand and plastic surgeon, Ginard Henry, MD, who was in Belize on his own medical trip. Dr. Henry was able to instruct him in the repair over the phone.

A former employee at Mattru had a mass on her back. It was diagnosed as malignant rhabdomyosarcoma, which is a form of cancer. One year later the pathology report was questionable empirically. Dr. Schuhknecht removed the tumor with wide margins at the direction of Samuel Logan, MD, from the United States. Throughout the procedure, the patient sang to Jesus. Afterwards, she presented Dr. Schuhknecht with a chicken to say thanks.

Overall, the trip was busy and a very gratifying time for the whole team. The people of Sierra Leone are gracious, patient, gentle, and it was a pleasure to serve them.
---