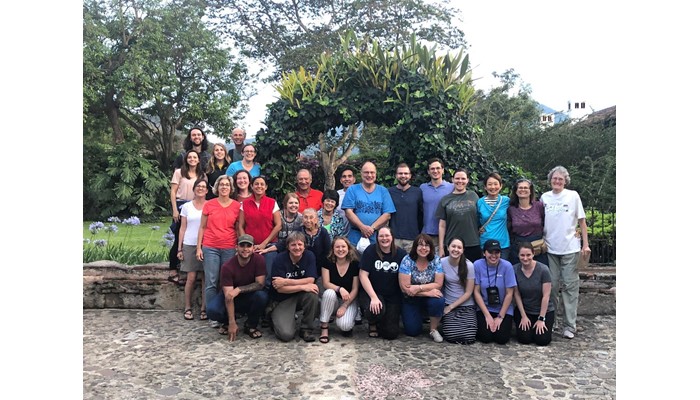 It was in the middle of the week when I had been working through heat exhaustion, while assisting with pelvic exams on prostitutes, that God brought me to a place of utter despair. Despair like David wrote about in the Psalms where he cried out, "How long, Oh Lord?" I was sitting on the floor behind a counter so that the women wouldn't see me breaking down in uncontrollable tears for them.
I had just finished assisting the doctor with a biopsy for possible cervical cancer. There was a treatment solution we offered the patient that could be a possible cure if she did indeed have cancer. Unfortunately, going through with the treatment would mean she had to cease "work" for 6-8 weeks. That was almost impossible. For these women working on the streets of La Linea in Guatemala, once they begin working as prostitutes, they have a constant pressure to keep making money so they can pay off the room they rent for their work. Some of them also have to pay gang members to "protect" them and often the interest rate for missing a day of payment is a staggering 50%. The missionaries working with the prostitutes told us it was not uncommon for the women to get a bullet in the head for missing more than a week of rent. They told us that since starting their ministry, Tamar's Hope, they had paid for countless, unnecessary funerals. So it was not surprising that the woman we offered the cancer treatment to had refused it because she was unable to stop working for that long. Although it was not surprising, it still came as a shock to me that there was nothing else we could do for this woman. For the first time in my life, I truly understood the passage in John 15 when Jesus says, "apart from me, you can do nothing" because I felt completely powerless to help.
God doesn't need me to do His work. But He has asked me to be available. That was a common theme and lesson I learned over the week I spent in Guatemala working in both the medical clinic and with a ministry to a red light district through Global Health Outreach. I joined the team as an Occupational Therapy Assistant with only one year of experience. My work in the last year had been focused on pediatrics so I knew that this setting was going to challenge my knowledge and skills as I would mostly be working with adults with chronic pain. I did my best to prepare beforehand- gathering information from my trip leader, collaborating with the PT student I would be working with, gathering donations for supplies, and reviewing treatment ideas. However, there were still plenty of "unknowns." I still was wrestling with feeling like a lot depended on me and not surrendering the outcome to God.
As the week progressed, I was both blessed and humbled by seeing the way God worked in the lives of our patients and through every person on the team. What I thought had been random donations of splints, braces, canes, and ace wrap ended up being needs-met for individual patients. I was able to use my knowledge as an OTA in very specific ways at times. But there were also times (most of the time actually), when I felt somewhat useless. I didn't know how to help several patients and could only sit back and observe while someone else worked with the patient. While I'll admit I did learn a lot just from watching, it was very tempting for me to feel disappointed or even useless to the team. But God changed something in my heart and allowed me to see that the most important thing was that the Guatemalan people that came to us were being served and prayed with and that they were seeing the love of Jesus through us. Very soon I was able to simply rest in the fact that God was touching the hearts of the people that entered that clinic no matter what. And it wasn't up to me. But I'm thankful that I was given the opportunity to be a part of it.
What I learned by being a part of a medical team in Guatemala and serving prostitutes is that God doesn't ask us to be perfectly qualified before we serve Him. And He doesn't call us to reach perfect people. This theme was brought to light not only in our day-to-day interactions, but also in our team devotions and testimonies we held every morning and evening. Several people on the team opened up and shared their testimonies, including the painful, broken parts of their stories. And on the second-to-last night, I felt God tell me to do the same. I wasn't expecting to do so. And I didn't feel completely ready. But I knew God was asking me to share the not-so-pretty parts of my story as well as my experience with the grace of God with this group of people I had grown so close to in a week. Wow, did God bless that. I don't know how exactly my story spoke to people but I do know that several team members let me know they needed to hear it. But besides the reminder that God works through us in our brokenness, I was given a glimpse of hope and healing through one woman I met in La Linea.
I only worked in La Linea (the red light district) for one day out of the five we were running the clinic. But the next day, I got the best news from someone else on the team who went. The woman I mentioned previously who had refused treatment for her possible cervical cancer returned to Tamar's Hope. She decided to get the treatment and also take steps to leave the current work she was in, beginning to work towards starting a business of her own. In a place where these women are the most despised and shameful (even to the church at times), the love of God is evident. It's so clear in the hearts of the missionaries who invest their time and energy, in our team who came to serve them with their medical knowledge and passion for the Gospel, and even in the prostitutes who spend their days in darkness. When Jesus was walking on earth, the Pharisees asked him, "Why do you eat and drink with tax collectors and sinners?" And Jesus answered them, "Those who are well have no need of a physician, but those who are sick. I have not come to call the righteous but sinners to repentance." (Luke 5:30-32)
---